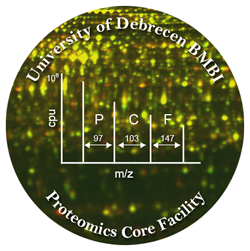 UD BMBI Proteomics Core Facility
Description of the RI
The mission of the Proteomics Core Facility is to undertake research and to provide access to mass spectrometry-based technologies, two dimensional electrophoresis and chromatographic techniques to academic and industrial groups. The laboratory is deeply involved in proteomic and metabolomics method developments required by clinical research applications, basic-science or industry and provides state-of-the-art technologies.
Activities and Services

Examination of proteins and small molecules, application of data dependent and independent acquisition methods, targeted and shotgun analyses.

Major activities:

protein identification using MS/MS-based sequencing,
label-free protein quantification,
SRM or PRM-based quantification,
examination of small molecules,
examination of post-translational modifications,
development and optimization of quantitative methods.
Health and Food
TYPE OF THE RI
Single sited
HOST INSTITUTION
University of Debrecen Faculty of Medicine Department of Biochemistry and Molecular Biology
LOCATION OF THE RI
Debrecen
STATUS
Fully operational, 2005-
NATIONAL PARTNERS

Eötvös Loránd University
Semmelweis University
University of Pécs
Biological Research Center
Research Centre for Natural Sciences
INTERNATIONAL COLLABORATION
With RIs
ELIXIR Proteomics
ELIXIR Community Implementation Study
Institutional partners
University of North Texas
University of Arizona
The Scripps Research Institute
Ghent University
Mount Saint Mary College
Thermo Fisher Scientific